What you don't know can cost you a lot of money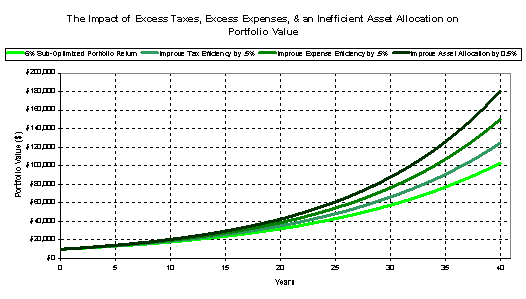 Many portfolios are not constructed or managed to minimize unnecessary taxes, to minimize wasted expenses that do not increase returns or reduce risk, or to have an asset allocation that maximizes expected return for a given level of expected risk.
The chart above shows an example sub-optimal portfolio (light green line, with a starting amount of $10,000) that is expected to yield 6% per year after taxes and investment expenses (such as sales commissions, mutual fund operating expenses, etc.). The chart also shows what happens if the tax efficiency, expense efficiency, and asset allocation optimization are each improved to add 0.5% to the annual return rate. If such improvements are made, the expected value of the portfolio will be 7% larger after 5 years, 13% larger after 10 years, 25% after 20 years, 34% after 30 years, and 43% larger after 40 years!
Listed below are examples of investment knowledge that may be used to create these greater portfolio efficiencies.
Saving & Investing for Private Elementary & Secondary Schools
There are now ways for parents to obtain tax-free investment returns to be used for private school expenses for their children.
There are now ways for grandparents to obtain tax-free investment returns to be used for private school expenses for their grandchildren.
Saving & Investing for College
Parents can obtain tax-free investment returns to be used for college expenses. These investments can even be made while the child is in college.
Grandparents can obtain tax-free investment returns to be used for college expenses for their grandchildren. By doing so, they can also reduce the portion of their estate that may be subject to estate taxes.
Saving & Investing for Retirement
The size of your retirement assets will be very dependent on how early you start to save.
Your after-tax returns are very dependent on the allocation of your savings between tax-free, tax-deferred accounts, and taxable accounts.
Due to the nature of the tax code, the long-term after-tax return on taxable accounts can sometimes be greater than that of tax-deferred accounts.
Risks such as inflation, unexpected health care costs, etc. must be considered along with investment risk to determine the optimal asset mix of retirement assets.
Increased investment flexibility and higher returns can often be obtained by rolling over a 401(k) or 403(b) plan into a Traditional IRA.
Under certain circumstances, you may increase your long-term after-tax return by converting Traditional IRAs into Roth IRAs.
Before retirement, the sequence that you contribute money into your different types of retirement accounts will significantly affect your long-term after-tax returns.
After retirement, the sequence by which you withdraw money from your different types of retirement accounts will significantly affect your long-term after-tax returns.
Investments for Charitable Giving
There are now investment vehicles to invest funds for charitable donations and pull forward charitable gifts made in future years as deductions in the current tax year.
Investments and Income Taxation
You can offset up to $3000/year of ordinary income with capital losses.
Picking the optimum cost basis to use for your stocks can reduce your capital gains tax.
Picking the optimum cost basis for your mutual funds can reduce your capital gains tax.
Offsetting capital gains with capital losses will reduce your capital gains tax.
Tax-exempt municipal bonds usually will not produce higher after-tax returns than taxable bonds, unless you are in the highest marginal tax brackets.
Turnover in a taxable portfolio will usually increase capital gains taxes.
Mutual funds are tax inefficient because they must distribute net capital gains, but are prohibited from distributing net capital losses.
Dividends are taxed twice (a 35% corporate tax, plus your individual tax rate of either 10% or 15%).
Long-term capital gains are taxed once at a lower rate than your ordinary income.
Investments and Your Home
If you are fortunate to buy the right house at the right time in the right location and sell it at the right time, your house can be a good investment.
However, nationwide studies over long periods of time show that, in general, the long-term average return on houses for the entire United States is only slightly above the rate of inflation.
Investments and Estate Planning
Probate is a judicial procedure that is usually long, expensive, inconvenient, and painful to your heirs. Through proper titling of assets and careful selection of beneficiaries, most assets can pass to your heirs without going through probate.
Federal estate taxes will be due on estate assets above a certain level. Some states also have estate taxes. Through the use of revocable trusts (also referred to as living trusts) you can take full advantage of the Federal spousal exemption.
Investing in General
For a desired level of risk (volatility) portfolios can be constructed to maximize expected returns. These are called Efficient Portfolios. (To learn more about Efficient Portfolios, see the Investment Topics section of our web site.)
The risk of a properly constructed portfolio will be lower than the average risk of all the individual securities in the portfolio.
Projecting future investment results based solely on expected returns is not a good model of reality, because the expected case almost never occurs due to the inherent uncertainties & volatilities of most investments. Simulation techniques (using sampling, probability, and statistics) can be used to project, under conditions of uncertainty, upper and lower limits on future investment returns.
Diversification can reduce security-specific risk, but not overall market risk.
Studies have shown that very few actively managed mutual funds perform as well as a comparable passive benchmark index. The comparison gets worse when taxes and sales commissions are considered.
Most investment products sold by insurance companies have lower long-term returns compared to other alternatives with similar risk.
Historically and on average, Initial Public Offerings tended to have returns above the market average in the short-term, and below the market average in the longer-term.
Options have certain characteristics that make them resemble an investment insurance policy. Options can be used selectively to manage risk.